I am creative and productive and have over 20 years of Marketing, Strategy and Event Experience. I have a passion for client-centric visions executed with elements of innovation, intrigue and ultimately fun!
I have created and deployed campaigns that always include a purposeful outcome, drive millions of dollars in opportunity for the associated business and always include a touch of humanity. I have never been one to play by the rules, even though I spent most of my career in the corporate world. With 10 years of experience at GE Capital and 3 years of experience at ADP, I always led my function and team to standout from the rest.
I often ask the question 'why' 13 times when fighting the 'red tape' of bureaucracy. "If you ask why enough, eventually you get to the root cause of why you can or cannot do something and usually it is that you can." I run fabu as a lead generation company that focuses on marketing as a function of sales. I love getting employees engaged through purposeful training, clients excited through riveting campaigns and everyone talking about the latest creative event that brings clients and employees together to celebrate!
Work Samples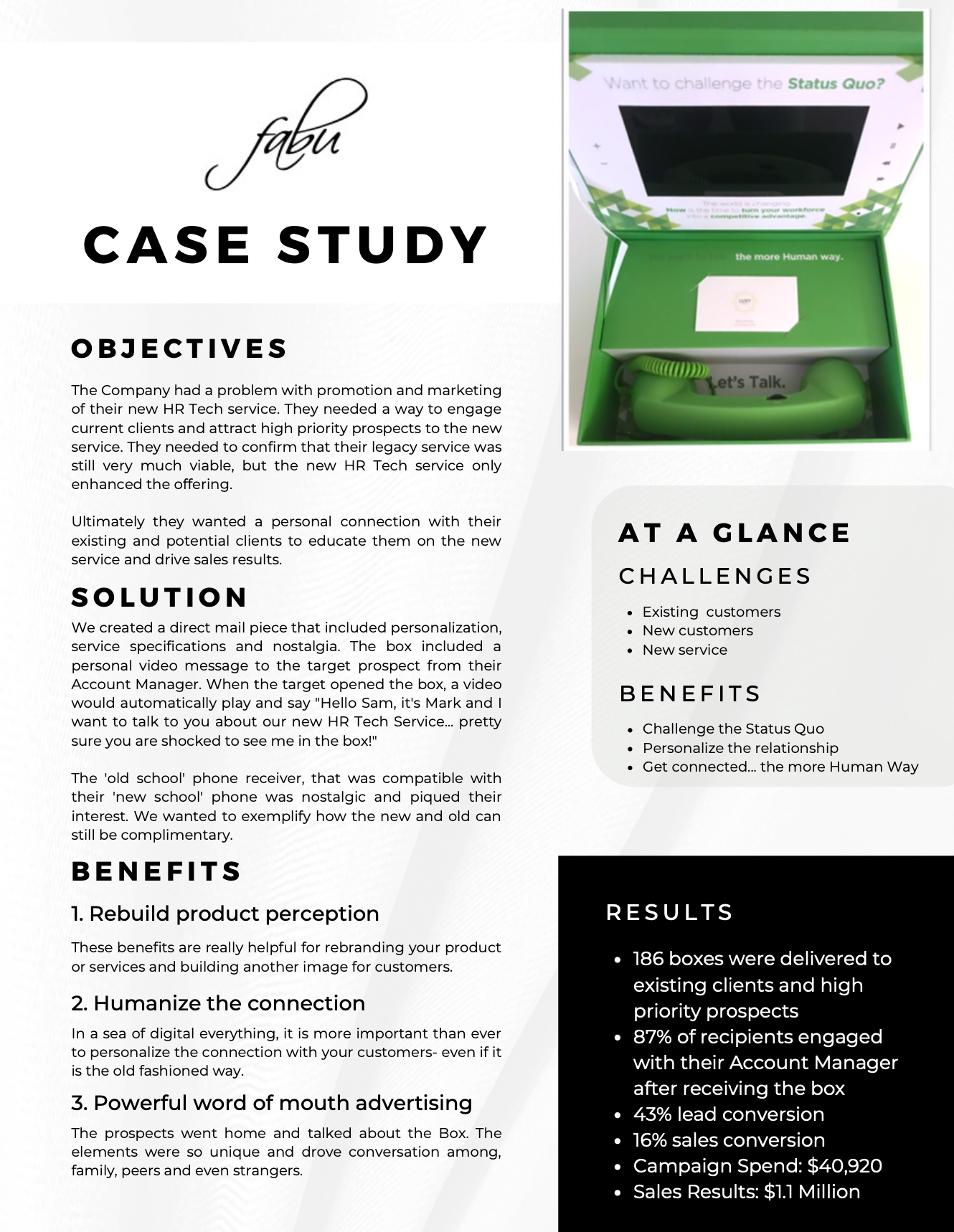 The Best Fit
I love working with companies that are scaling up or well-established. Businesses in growth mode love being creative and challenging the status quo. That is where I shine. Product launches, user events, creative direct marketing, branding or re-branding projects, innovative lead generation are all projects I love working on. Well-established businesses also are a great fit, as they know what they want and come to me for detailed-oriented executive that drives results.
Tania is super responsive. She had a thoughtful plan for every stage of our marketing campaign, and executed each milestone as created. The campaign was a huge success and she integrated very well with our team - it almost felt like she had worked with them for years.

Patrick Pearson

Financial Industry
Working with Tania, is like working with a friend. She is disciplined, but creative. She demands the best, but is right in there with you and the team doing the work, not just talking the talk. We love doing events with her.

Deena Marcoccia

Fairmont