I am a seasoned marketing, communications and advertising consultant with over twenty years of experience.
I have spent the last decade working with creative advertising, television and PR industries in order to develop compelling branded stories, experiences and strategic plans that increase both the ROI and brand awareness for the business.
I have creating integrated brand campaigns across the following disciplines and competencies: Digital strategy, digital and commercial (studio) production, media teams, account teams, creative teams and UX teams.
A key driver of creative success applied to projects starts with standardized research, content auditing and/or partnering with brand planners to develop a KPI framework that best aligns with the organizations needs, prior to creating a long-term programmatic (paid) plan, influencer strategy or creative process.
It has been integral to align plans with multiple international and local stakeholders to define growth targets, objectives, content strategy, media relations plan and an ongoing brand identity for creative campaigns.
I was a part of the original Chevrolet / MRM global team (Commonwealth) as a Canadian lead on the digital front, defining GM's global social strategy and KPI framework for all local regions alongside the leading Detroit-based FleishmanHillard team.
Work Samples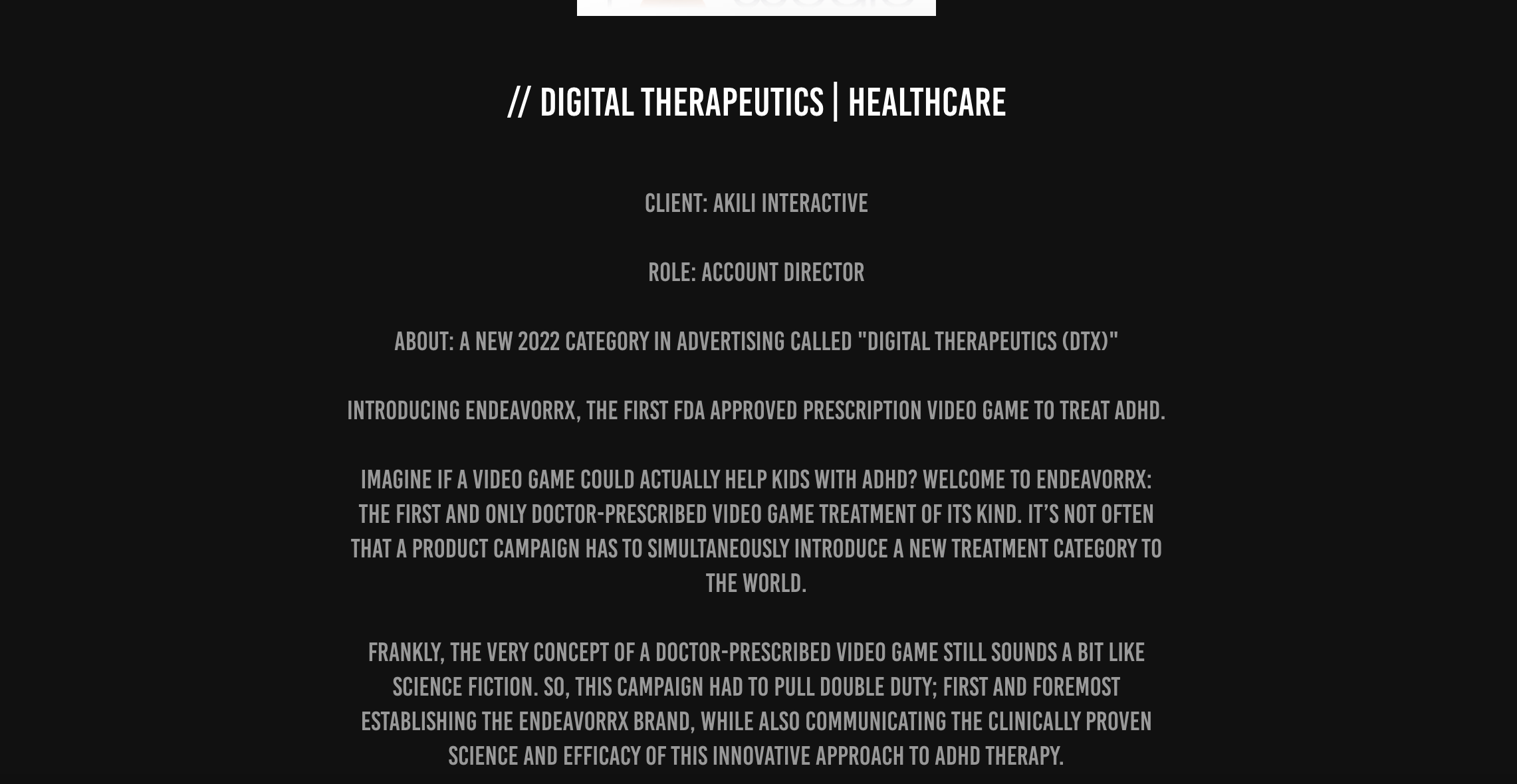 The Best Fit
Small to large enterprise businesses, start-ups launching products, clients looking to make revenue gains.
Eryn and I worked together on a social project for a large, high profile client within an ad agency. She was a key team member and a true professional. Her deep understanding of the social platform and strategic recommendations were extremely valuable to both our internal team and the client. Eryn's dedication was truly above and beyond. The client was in Asia and there were many late night calls and travel that was taken without hesitation. Eryn showed depth and adaptability in an evolving role that started as social strategy and by the end had her producing content and being the account lead and client's main point of contact. She was a major contributor to the success of the project. I'd happily recommend her and look forward to working with her again.

James Trimbee

Senior Manager, The Master Group
Eryn was a fantastic member of our social team - very bright, inquisitive, always anticipating what's next, and just a plain joy to be around/work with. She has a great understanding of social, striving to constantly improve (herself and her team), and appreciates the value of relationships.

Mike Cearley

Global Managing Director, Social & Innovation
I had to the pleasure to work with Eryn for close to 3 years with the Commonwealth / Chevrolet Canada social media group. Eryn demonstrated great leadership with the group and was always a keen creative and strategic thinker. Eryn's knowledge of the ever-changing social media world - especially with respects to measurements and analytics is second to none.

Richard Budman

President and Chief Collector, North Collectors Co.