I am a performance marketing leader with over a decade of experience working with C-suite leaders in start-ups, scale-ups and multinationals to build scalable marketing channels for growth. I have a proven track record in developing and executing multifaceted marketing strategies across various channels. With extensive experience in multichannel marketing strategy, I have successfully leveraged a combination of online and offline tactics to drive business growth and brand visibility.
My expertise extends to paid advertising, where I have managed SEM (Search Engine Marketing) and Paid Social programs, consistently delivering exceptional results by optimizing ad spend and maximizing ROI. I excel in crafting compelling ad copy and leveraging data-driven insights to refine targeting and bidding strategies.
I have a deep understanding of digital media and its evolving landscape, allowing me to stay ahead of the curve in implementing innovative digital marketing initiatives. My proficiency in data science enables me to harness the power of analytics and consumer insights to refine marketing strategies for optimal performance.
In addition to my strategic acumen, I am passionate about team building and coaching, having successfully led and mentored diverse marketing teams. I believe in fostering a collaborative and innovative environment that drives professional development and, ultimately, the team's success.
I am well-versed in B2B GTM (Go-to-Market) strategy, having crafted and executed comprehensive plans to penetrate and expand within target markets.
In summary, I bring a holistic and data-driven approach to marketing, spanning multichannel strategy, paid advertising, digital media, data science, team leadership, SEO, B2B GTM strategy, marketplace growth, and growth marketing. My passion for driving results and dedication to continuous learning make me a valuable asset in achieving and exceeding marketing objectives.
Work Samples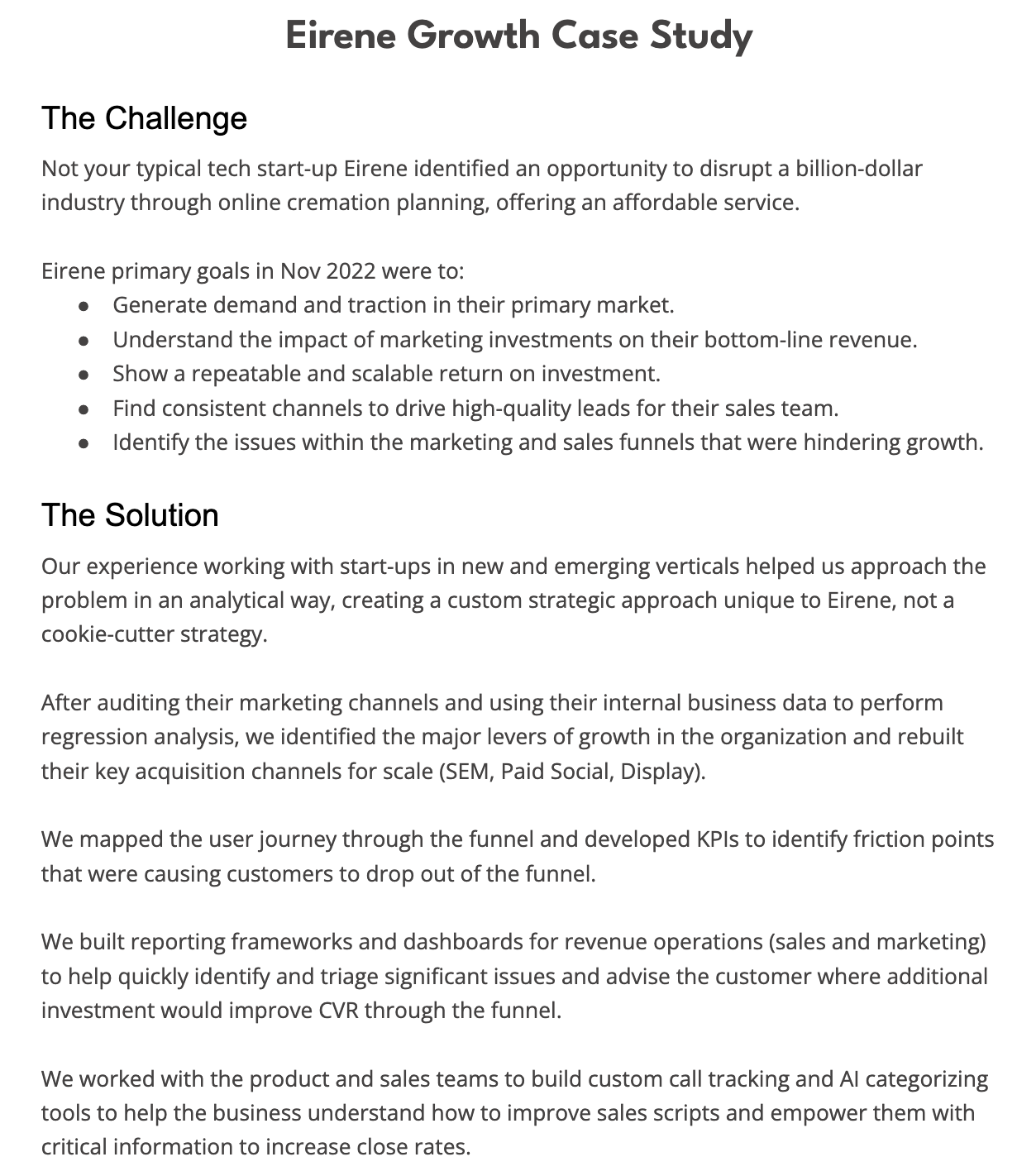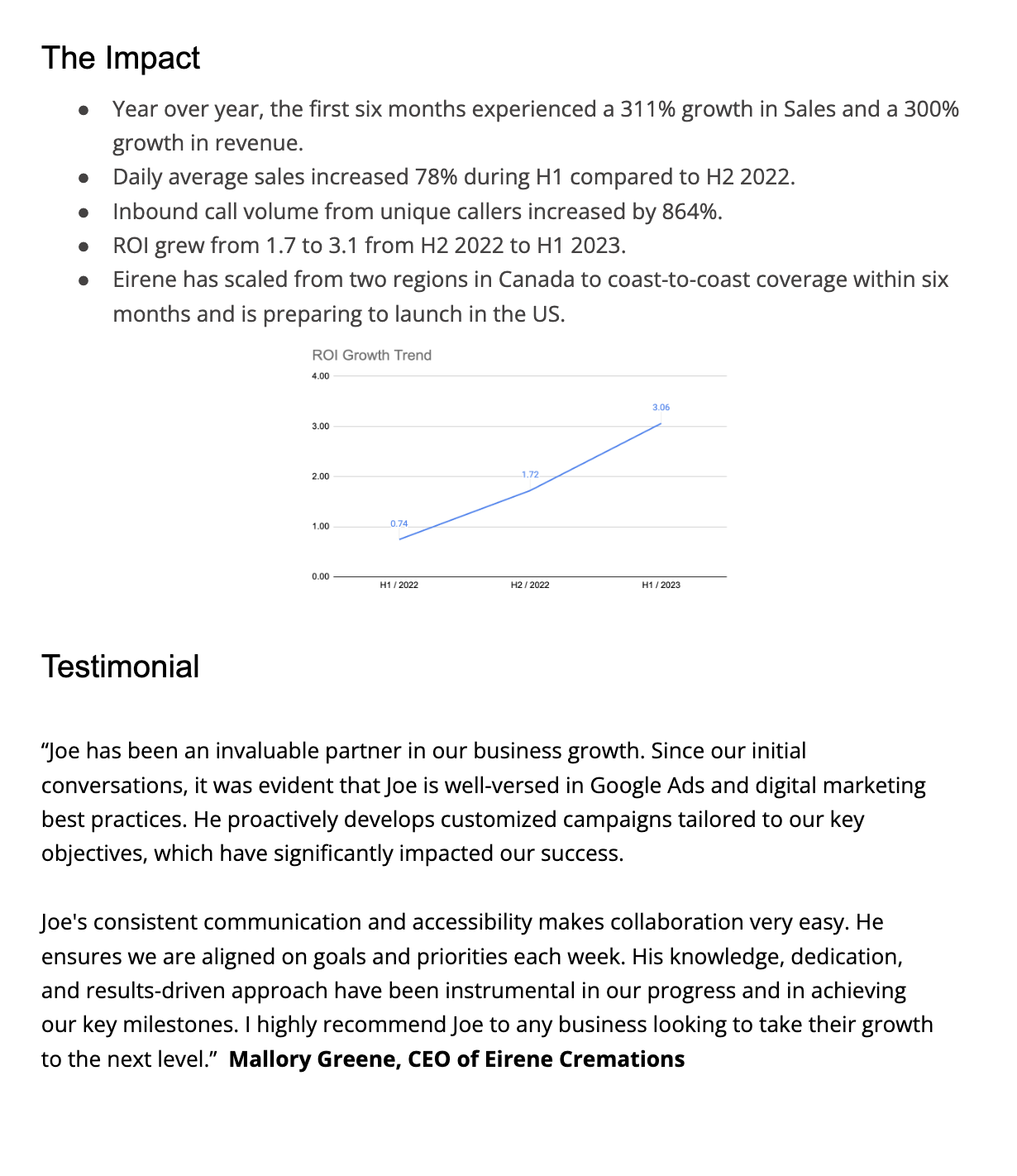 The Best Fit
Small to mid sized tech start-ups, who have defined their product or service but our struggling to scale.
Joe has been an invaluable partner in our business growth. Since our initial conversations, it was evident that Joe is well-versed in Google Ads and digital marketing best practices. He proactively develops customized campaigns tailored to our key objectives, which have significantly impacted our success. Joe's consistent communication and accessibility makes collaboration very easy. He ensures we are aligned on goals and priorities each week. His knowledge, dedication, and results-driven approach have been instrumental in our progress and in achieving our key milestones. I highly recommend Joe to any business looking to take their growth to the next level.

Mallory J Green

CEO and Co-Founder, Eirene Cremations
Joe's expertise in Paid Search was instrumental in optimizing our online campaigns. With his strategic approach and meticulous attention to detail, he consistently delivered and helped our business gain insights into what works for us. I highly recommend Joe for his exceptional skills and dedication to achieving success in Paid Search!

Jade Yourth

Director, Creative Niche
Every business needs to apply solid data-science principals and practices to performance marketing, growth loops & retention strategies, demand gen, etc etc. But more than that you need someone who can do it with imagination and creativity so that your campaign aims and end advertising product is true to your brand and your customers as as well as your revenue goals. This is where Joe sings and there is nobody else I would recommend more highly. We have worked together for several years so I feel well qualified to make such bold claims.

Luke

VP Marketing, HomeStars