Over the past ten years, I've digitally transformed dozens of businesses through market-leading social strategy and leveraging the magic of video to help clients across a variety of industries connect with their audiences in a meaningful, authentic, and impactful way.

Whether you're looking for 360° social media management coverage, SEO driven concept-to-completion video creation, or flexible marketing services that put you directly in the palm of your customers hand, I've got you covered.

And, hey! I'm also a professional YouTuber, having amassed a digital audience of more than 30,000 members. I understand first-hand the importance of remaining authentic as you build your brand, and how important your business is to you. I look forward to earning your trust as we grow your online presence to new heights.
Work Samples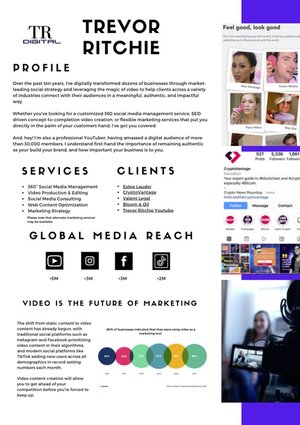 The Best Fit
Clients looking to build or enhance their digital real estate through social media content creation + social videos are ideal. Clients looking for a variety of social media marketing services who are focused on the most current ways to connect with their audience. Clients looking for a variety of levels of customizable social media management offerings.